@ficaryl Yeah I wouldn't fall for that. Just ask my girlfriend who lives in "Canada". She knows.
rgfitzjohn .@_inundata Here's an R package meme it would be nice to get more often: i.imgur.com/jDZt3.jpg
dkberman To sum today's tech world: Amazon wants to be Netflix; Facebook wants to be Google; Google wants to be Apple; Apple wants to be Dropbox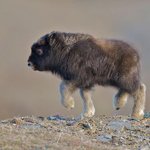 monteiro If you are mad about something look at this picture. It's a baby bison! pic.twitter.com/ib0e9efh
@labroides You'll have a winner when you see "Can write letters without the assistance of clippy the paper clip".
@phylorich That would be awesome! happens to me once every blue moon.
Just had a bowl of pho I didn't like but lied to the waitress when she asked how everything was. So, um, how do I get in touch with Oprah?
@distribecology dying to hear more about this work. Would love to read an informal preprint if you're willing.
@yoavram So weird that we share the same last name. My first reaction: wait, I wrote this??? ah right no. ;)
Contributing without any acknowledgement for your efforts really stings.