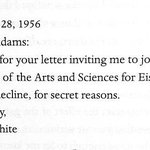 LettersOfNote E.B. White (Charlotte's Web, Stuart Little) was born this day in 1899. He was pretty good at declining invitations: pic.twitter.com/2cDR5XQbII
@carlystrasser Does everyone have to take off shoes, jackets, and laptops when entering CDL now? Also no liquids.
@JohnFBruno heh. There'll be a lot of that this summer. Be sure to admire the intertidal mural I made in terminal 1 of SFO.
Delighted to accept @weecology's "Nine simple ways to make it easier to (re)use your data" into Ideas in Ecology & Evolution.
@tomjwebb If only you spent more time playing Tetris as a kid this would be a "problem" ;)
Karthik's layover protocol.
a) Find nearest bar.
b) order drinks
c) git pull, git push.
Pen type-A: Carry on with you to trigger secondary screening in airports across the world.