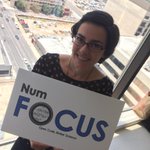 NumFOCUS .@NumFOCUS is pleased to welcome our new Communications Director, @ginahelfrich! pic.twitter.com/vIGDK6a7iI
@quominus it rains in that part of England, right??
@abigailamey I spent an hour yesterday morning watching a seagull try to steal my croissant in Oslo. Eventually I just gave it to him/her
@quominus I have so many responses to this question. What kind did you say?
@sgrifter we are good (encoding challenged) people.
I seem to have discovered Södermalm's Dolores park.
@treycausey all my faves automatically get bookmarked on Pinboard with a twitter-fave tag with the text of the tweet. I search there.
@millerdl I would like to just watch the sequel.