@hrbrmstr Excited to catch up with you in a few days!
@sckottie spotted in the wild. pic.twitter.com/XLceqXaWOl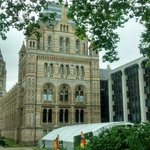 MPGreenwell Great week at the #NHM! Lots of coding tips and tricks, just need to put them into practice. Thanks @nhcooper123 @annakrystalli @_inundata pic.twitter.com/hW7QBv4TP1
@millerdl Urgent request #2:
@nhcooper123 thinks this is a goldcrest but I think this is a firecrest.

Please advise asap. pic.twitter.com/xqoHZCqSzl
@millerdl URGENT: we need you to wear a red t-shirt tomorrow.
@jebyrnes I didn't do anything! However I observed at least one child sneeze directly and/or wipe boogers on most exhibits.
@tomjwebb Very eager to learn about your expedition sound system. pic.twitter.com/NOo8QtCJTw
@jhollist I have seen at least one child sneeze on/at every exhibit here. So far immune system is holding up, but I'm sure it's not as strong as yours
Lesson reinforced after spending a week teaching at the natural history museum. Never touch anything at a science museum. 👶 + 🤧